Specifications
Connection

Bluetooth, USB

Working Frequency
Protocol

ISO14443A

Connection

Bluetooth, USB

Working Frequency
Protocol

ISO14443A
Software
iOS App
Android App
iOS App
Android App
Environmental Performance
| | |
| --- | --- |
| Working Temperature | -20°C-70°C |
| Working Temperature | -20°C-70°C |
| | |
| --- | --- |
| Weight | 0.1 kg |
| Connection | Bluetooth, USB |
| Working Frequency | |
| Protocol | ISO14443A |
| iOS App | |
| Android App | |
| Battery Capacity | 300 mAh |
| Working Temperature | -20°C-70°C |
MTools
With PCR532 as the external reader, MTools supports reading, writing and analyzing the data. It also supports full dump clone on Magic Card.

Play Store
RFID Tools
PCR532 supports cracking with RFID Tools app for restore keys of Mifare Classic 1K card. It supports connection with USB and Bluetooth SPP.
Play Store
MTools Lite
With PCR532 you can read Mifare Classic 1K/4K Card or Key Fob via BLE. It also helps you to learn APDU command with built-in Terminal tool.

Play Store
App Store
RFID BOARD
POWER
ThroughUSB – No Battery
CONNECTION
Micro-USB   / Type-C
SIZE
60mm   x 38mm
LED
Power   / Transmit / Receive
Serial Chip
CH340
Expandable
YES
Platform
Android / Windows / Linux / MacOS
Expanded Board
POWER
300 mAh Li-Battery
Charging
C4056
SPP Version
3.0
BLE Version
4.2
Size
60mm   x 38mm
Connection
Wireless
LED
Charging / Connection
Expandable
YES
Platform
Android / iOS / Windows / Linux / MacOS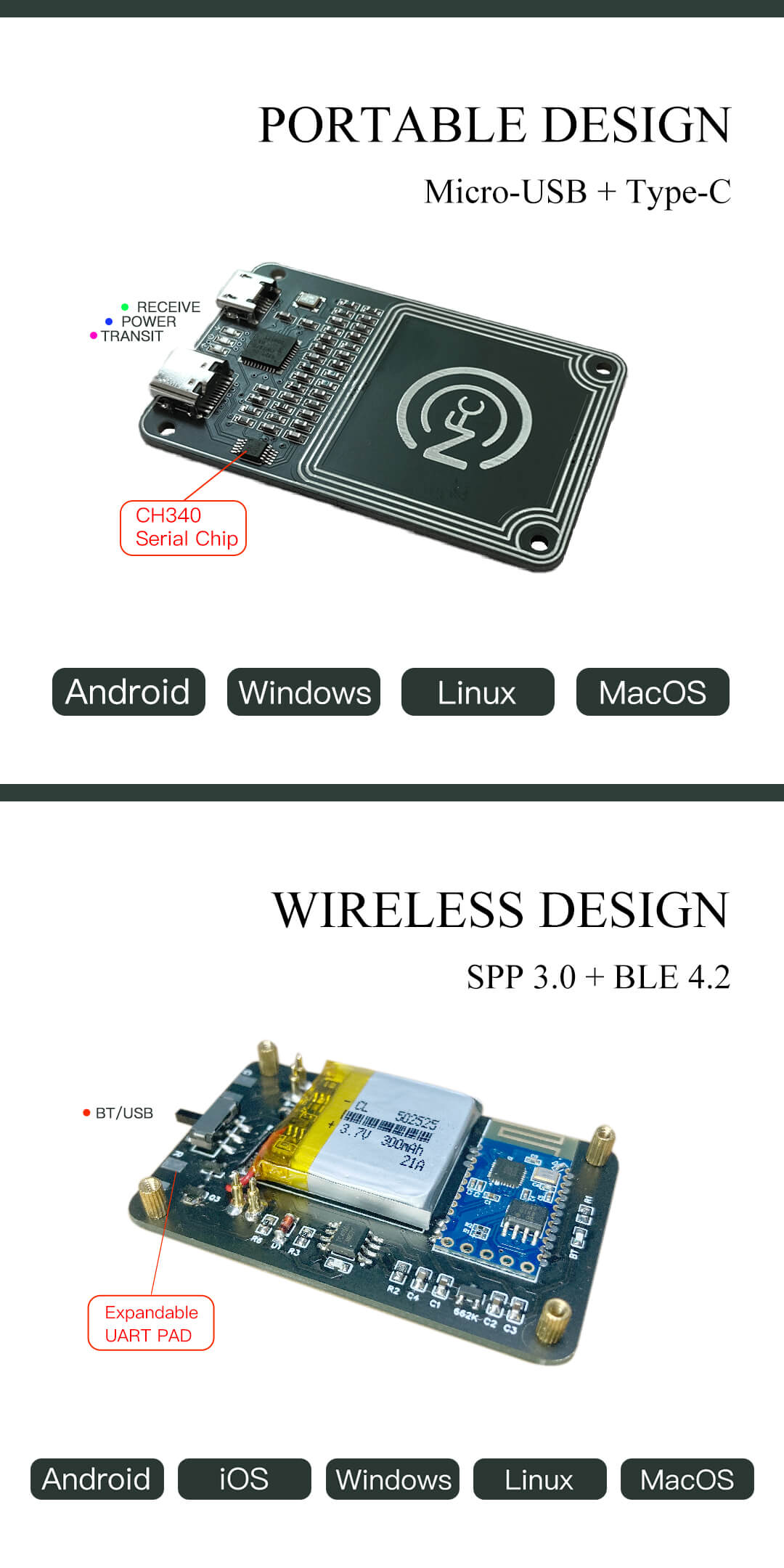 Package Include
RFID-PN532 x1

Bluetooth Extend Board x1(Depending on the order)
Switch Button
Mode Switch: BT / USB / CONFIG
PIN Switch: RUN / CONFIG (This switch only available before V5.3.0)