Specifications
Card Type
Protocol

ISO14443A

Amount

1 pc, 5 pcs, 10 pcs

UID Length
Working Frequency
Memory
Device Support
Card Type
Protocol

ISO14443A

Amount

1 pc, 5 pcs, 10 pcs

UID Length
Working Frequency
Memory
Device Support
Environmental Performance
| | |
| --- | --- |
| Working Temperature | -20°C-70°C |
| Working Temperature | -20°C-70°C |
Software
Android App
iOS App
Android App
iOS App
| | |
| --- | --- |
| Weight | 0.1 kg |
| Dimensions | 8.55 × 5.3 × 0.08 cm |
| Card Type | |
| Protocol | ISO14443A |
| Amount | 1 pc, 5 pcs, 10 pcs |
| UID Length | |
| Working Frequency | |
| Memory | |
| Backdoor Command | |
| Working Temperature | -20°C-70°C |
| Android App | |
| iOS App | |
| Device Support | |
Ordinary card VS Chinese magic card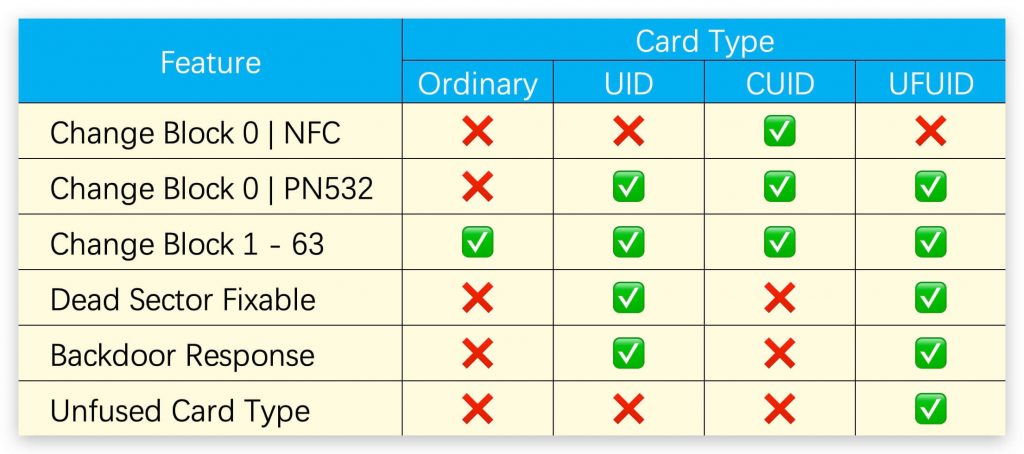 How to clone an 85.5 x 54 x 0.8mmcard to a CUID card?
Block 0 of the CUID card is changeable, so you just need to write block 0 or full dump to the CUID card with the NFC device.
If the BCC byte or SAK byte is invalid, MTools will not write block 0 to prevent damaging the card.
How to clone a card to UID card and UFUID card?
Both the UID card and UFUID card has backdoor command, so you can use PN532, ACR122U or Proxmark 3 to write dump back to data without keyA or keyB.
Command line to write dump file:
    nfc-mfclassic W a u card.mfd
Command line to change UID:
    nfc-mfsetuid 11223344
1 click to clone on Android:
    Check out tutorial with MTools >>
What's the difference between UID card and UFUID card?
Both types of cards are responded to the backdoor commands which can be read, written, or cloned without key verification.
After locking, the UFUID card can be changed to an ordinary Mifare Classic Card. This operation cannot be reversed currently.